Champion Motors Case Study


Client Profile
Based in Israel, Champion Motors is a leading car importer and retailer of Volkswagen, Audi, Seat, and Skoda automobiles.
The Situation
Champion Motors needed a flexible and easy-to-use tool that allowed the company to create conversion-driven overlays and A/B tests
The Solution
Zoom Engage allows brands to run on-site digital marketing campaigns that increase conversions by approaching website visitors with the right message at the right time
The Outcomes
Conversion-driven popups and overlays
23% of sales are obtained through lead forms
100% increase in conversions after A/B test
Situation
Based in Israel, Champion Motors is a leading car importer and retailer of Volkswagen, Audi, Seat, and Skoda automobiles. In addition to its showrooms, the company maintains an array of individual e-commerce websites that feature the brands it sells
"When someone visits our main website, they can click on a link that takes them to another specialized website that features the brand they are interested in," explained Ronen Meshulam, Digital Media Assets Manager at Champion Motors. "While on the Volkswagen website, for instance, visitors can learn more about the brand and can order a vehicle that is configured to their tastes and needs."
Ronen's objective with the specialized websites was to increase their conversion rates. Champion Motors had been using a tool that enabled Ronen to use popups to display messages to visitors. However, the tool was not flexible enough to enable Ronen to execute campaigns and retarget visitors while they are still on the websites in a way that would deliver the best results
This lack of power and flexibility meant that Ronen didn't use the tool very much. He knew that he needed to find a better solution. That search led him to Zoom Engage.
Solution
Zoom Engage allows Ronen to run on-site marketing campaigns that increase conversions. The tool is effective because it presents visitors with the right message at the right time to keep them engaged with the website's content.
Easy Implementation
According to Ronen, implementing and using Zoom Engage doesn't take a lot of effort. "It is easy to use," he said. "We simply added the Zoom Engage code snippet into our responsive website, and it works equally well on desktop and mobile devices."
Also, Ronen doesn't have to wait on a programmer or a graphic designer to create a campaign. "If I want to play around and try something new, I can handle everything myself with Zoom Engage. And, if I need something that I can't create myself, the team at Zoom Engage will quickly step in to help," said Ronen.
Conversion-Driven Popups and Other Overlays
Popups and other overlays are an integral part of Champion Motors' marketing efforts because they drive sales. The popups and other overlays are triggered based on the needs of a particular campaign. For instance, a popup may appear when a visitor arrives on a landing page or when a visitor attempts to leave a page. Ronen can also schedule an overlay to appear once per browsing session, daily, on a customer's birthday, or when the automobile is ready to be delivered to a customer.
From Lead Forms to CRM
Champion Motors uses lead forms extensively on its websites. While visitors are shopping for an automobile, they are presented with a floating overlay with dynamic content that, when clicked, opens a "contact us" form. The floating overlay content is dynamic such that it matches the automobile model the user is looking at. After a visitor completes the lead form, the form is sent automatically to Champion Motors' CRM and the visitor is contacted by a Champion Motors salesperson.
A/B Testing the Design
Champion Motors also uses A/B testing to determine what placement and colors convert the best. "The A/B testing feature of Zoom Engage is great," said Ronen. "It helped us determine the best popup and button design for our campaigns."
Ronen is so pleased with the results that Zoom Engage delivers that he intends to use it even more. "In the future, we will increase the scope of campaigns that we run in Zoom Engage," said Ronen. "We plan to use popups and overlays on more internal pages and conduct more A/B tests to continue to optimize our websites."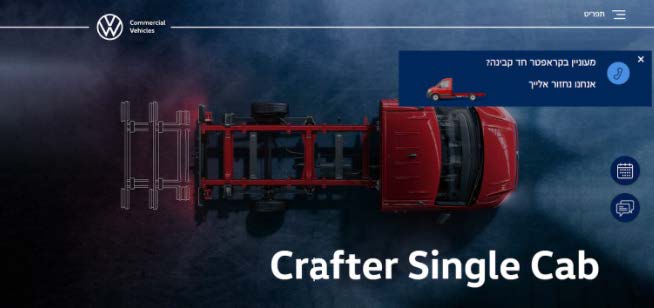 Floating overlay with dynamic content.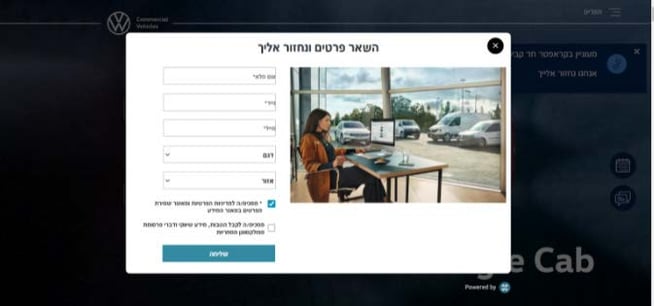 Popup opened when floating overlay is clicked.
Outcomes
Increased Engagement
– The popups used by Champion Motors increase engagement with each of the company's websites. "We like using popups and other overlays because we can zero in on each visitor with the right message," said Ronen.

Successful Lead Forms

– On the Skoda website, 23% of sales are obtained through the lead form. Of that 23%, 50% came from a popup triggered when the visitor is leaving the page, and 50% came from a "contact-us" overlay button.

Effective A/B Testing

– Ronen tested the color and arrangement of click-to-call buttons. The result was a 100% increase in conversions once the A/B test was completed

Saved Time and Money

– "We save a lot of time and money because it is so easy to create campaigns. If we didn't have Zoom Engage, we would need to create sketches and explain to a programmer what we wanted, then wait on the programmer to implement our campaigns," said Ronen.
Download PDF